The Marshall District Library is here to help with all of your research needs. If you are unable to locate what you are looking for, or require additional assistance, please visit or call the Help Desk at 269-781-7821 ext. 1000.
Consumer Reports Online

Free online access to Consumer Reports Magazine, with up-to-date product reviews on hundreds of items, including cars, insurance, appliances, electronics and more.
Local History & Genealogy
For research assistance, please go to our Local History & Genealogy page or contact our local history and genealogy librarian:
Chelsea Johnson
269-781-7821 ext. 2300
johnsonc@yourmdl.org
Michigan eLibrary (MeL)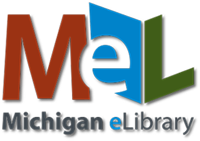 Michigan eLibrary (MeL) is a service provided to all Michigan residents and is available 24/7. On the site, MeL.org, users are able to access:
eResouces which gives instant access to full-text articles from tens of thousands of journals, magazines and newspapers. eResources are available for kids and adults and include general and specialized topics.
MeLCat allows library cardholders to order books, audiobooks, music, movies and other materials from other Michigan libraries and have them delivered to the Marshall District Library for free. This can be done from home or from inside the library.
Miscellaneous Links
Remember – You can always ask a staff member for assistance too.